Phil Robertson
Ambassador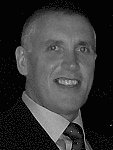 Phil Robertson was born and brought up in Aberdeenshire before moving to Manchester to study in 1992.
He joined the Finance Team at the Think Money Group in 1995 as Distributions Manager before taking on the role of Head of Staff Development for the Group in 2006.
His duties included the development of the company's support for local and international charities and he was instrumental in setting up one of the UK's most successful Employee Payroll Giving schemes, achieving 88% employee participation in 2011.
The scheme's success was recognised for three years running at The National Payroll Giving Excellence Awards and in 2011 was awarded the Best SME Campaign Award, the Best Innovative Promotional Partnership Award and was a close runner up to Whitbread in the Best Overall Campaign Award at the Awards Ceremony held at No.11 Downing Street.
Phil has also been invited to address the Institute of Fundraisers Payroll Giving Special Interest Group on two occasions where his ideas and innovations on how to develop a successful Payroll Giving Scheme have been embraced by its members and also adopted by CSR managers at many small and large businesses across the UK.
Phil left the Think Money Group in December 2011 and for the first seven months of 2012 has been supporting the development of a Personal Finance Education Programme for primary and secondary school children in the UK.
In August of 2012 Phil was appointed International Fundraiser for an Orphaned and Vulnerable Childrens' project in South Africa, which is supported by Giveall2Charity.
Phil has a real passion for fundraising and for developing successful company Payroll Giving Schemes and is very pleased to be working with the Giveall team to promote and develop greater success in employee payroll giving in 2013.