David Grier
Ambassador and Trustee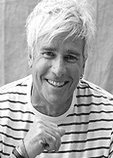 Why I became an Ambassador and a Trustee
As an individual I am passionate about making a difference in the lives of the youth around me. Through my extreme adventures I try and inspire the youth to go out, live their dreams - and achieve them, but also by doing so to make a difference in the greater community in which they are in contact.
We are all traveling our life's journey. Make your journey count. Make a difference!. I feel that Giveall encapsulates what I believe in and is going to make a massive difference in the lives of our youth.
I joined the charity as a Trustee and an Ambassador to add my support to this most worthwhile cause.
David Grier is an exceptional human being: a Cape Town based celebrity chef, extreme athlete, author and philanthropist; he has just completed his third in a series of fundraising challenges for the Miles for Smiles charity.
David is always pushing his adventure side as well. Summiting Mt Kilimanjaro, running the Comrades Marathon, the 2 Oceans Marathon, the Puffer Ultra Marathon, and the Le Grand Raid - the world's hardest single stage mountain race, 128km.
David's first real challenge was a 4,200 km Great Wall of China continuous run in 2006, his second was in 2008 when he ran 3,300 kms of the southern African coastline, and in 2010 he completed his first solo expedition and his most physically demanding and daring extreme adventure yet, the Cipla Miles for Smiles Madagascar Challenge 2010.
Having trained for five months under the guidance of the Sports Science Institute, David's latest challenge began in Nacala, Mozambique on 29th November 2009. This challenge crossed multiple sports' disciplines and lasted for a spirit-breaking four months; months which saw him kayak 500km across the Mozambique channel to Madagascar, then run the approximately 2,700 kms up the centre of the island to the northern tip of Madagascar, and that was before the kite boarding had started…Grier did not take this on simply to satisfy his love of extreme adventure however. His motivation is much stronger than that and again he's raised funds for a Non-Profit surgical organization Operation Smile SA (OSSA). OSSA is part of global organization Operation Smile which facilitates free reconstructive surgery for underprivileged children born with cleft lips, palates and other facial deformities.
To find out more about David's fantastic adventures and to purchase his amazing books, click
here
.